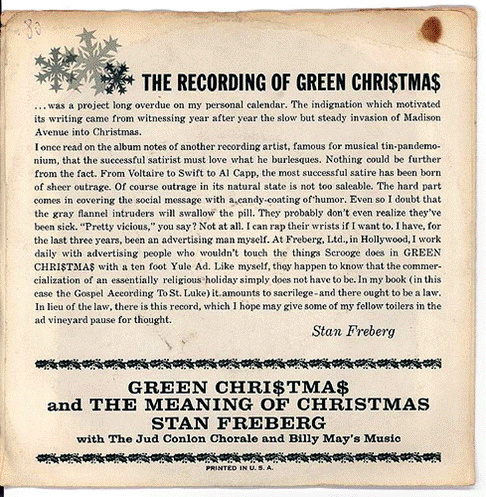 Stan Freberg's Christmas diatribe has now passed its half century. At first, Capitol Records refused to release it. Lloyd Dunn, the president of Capitol, told Freberg the record was offensive to everybody in advertising, and predicted that he would never work in advertising again. Freberg responded that he would cancel his entire recording contract with Capitol. Faced with this, they finally released it, but with no promotion or publicity.
The record was attacked in advertising trade magazines. It was played only twice in New York by one disk jockey, and the station's sales department threatened to have him fired if he played it again. KMPC in Los Angeles played the record, but some advertisers required that their ads be scheduled more than fifteen minutes away from it. An editorial in the Los Angeles Times condemned it, but the author later admitted he hadn't listened to it. Similarly, Robert Wood (then station manager of KCBS-TV in Los Angeles, later president of CBS), told Freberg the record was "sacrilegious" and he didn't need to hear it because he had read about it. [Thanks to Wikipedia for the info.]
Ironically, Freberg's motivation was sacred rather than secular: he was the son of a Baptist minister in Pasadena, California (one of my oldest and best friends was a high school classmate of his) and he never renounced his faith.
This record has sat on my shelf for years, coming out for an occasional Christmas hearing. But this year, like so many old clichés, it's been given a new lease on life and green has taken on a whole new commercial dimension . As many shopkeepers stare at their full shelves and empty cash registers, Scrooge's sales pitch as portrayed by Freberg and his crew has a hollow reverberation; compared with what's on radio and TV this season, his jolly lyrics seem almost tasteful.
---