NOTE: This is just one old codger's personal response. If you want the details, go to Marc Millon's write-up on his Quay Press website.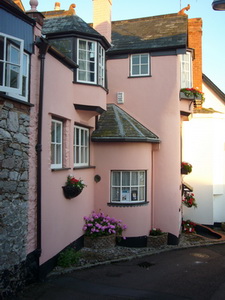 If you visit Topsham, one of the first things you'll notice (after the handsome domestic architecture) is that there's no vandalism, no graffiti, no billboards and no loud noise—even late on a Saturday night. This just might be related to the fact that the natives tapping their sticks along the pavement seemed old enough to be my parents (an initial impression that was later vitiated by the army of young volunteers and the big family turnout for the weekend's events). One Exeter beer-lover starts the website page on his pub crawl of the Topsham Ten with the observation that it's "where all the teachers, professors, academics and Diana suitors live."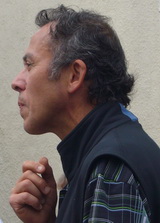 Our old friend Marc Millon is a notable exception. Back in the swinging sixties he was a kid who appeared occasionally at Berkeley's erudite FM station KPFA where his step-Dad and I were among its dedicated company of brow-lifters. Now he's a lot older, but he's still an athlete who hasn't packed his Lycras away in a bottom drawer. Through the 80s and 90s Marc and his wife Kim parked their VW camper in vineyards all over Europe, documenting their travels in a series of legendary books on the continent's most noteworthy wine routes. He has avoided the sagging muscles and protruding gut that usually go with such dedicated elbow- bending by vigorous self-flagellation with a tennis racket and a bicycle.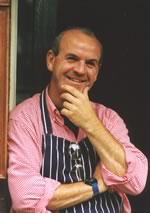 One of his little jaunts was a bike-ride to Venice with Topsham restaurateur Nello Ghezzo, undertaken on behalf of a cancer charity. By one of fate's cruel ironies, within three years Nello himself had become a casualty. One of his dreams had been to set up a row of tables the length of Topsham's winding thoroughfare along which the whole town could sit down together for a self-catered gourmet picnic. This year Marc decided to make this ambitious project the culmination of a local food festival—not just another pay-through-the-nose package of luxury nibbles and celebrity chefs, but a community celebration in which you could participate fully without taking out a second mortage.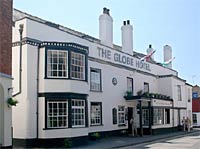 Now, the first thing you do when you organize such a big event is assemble a committee, appoint a secretary and start passing resolutions—right? Not if you're Marc. He and a few like-minded locals started getting together at the Globe and knocking suggestions around. No officers, no minutes, just an evolution of ideas that gradually arrived at what those other Friends (the teetotal ones) call the Sense of the Meeting. As with the Quakers, you would have searched in vain for the organizers' names prominently displayed on the publicity. The result was a weekend that seemed to flow smoothly from event to event without anyone actually being in charge.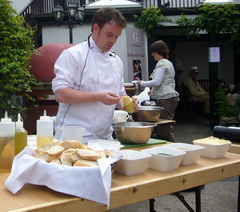 On Saturday the Globe Hotel, where all the plans were hatched, transformed its courtyard into The Global Food Village, where a series of wide-open demonstrations by local artisans and chefs produced so many scrumptuous tasting samples that Mary and I felt no need for a midday meal. (The details are here.) Who says there's no such thing as a free lunch?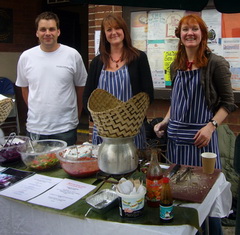 It was appropriate that such a locally oriented festival should tie in with the monthly Slow Food market on Sunday morning. It provided a perfect opportunity to buy food for the evening's Longest Table—either pre-cooked or, for the locals, ingredients to take home and prepare. Upstairs was an exhibition of works by local artists that outshone the usual fare in London's smaller private galleries. An amazing photo by Marc's son Guy made us think long and hard about where we could squeeze it onto our allready-full walls.
Even the omnipresent health-and-safety barriers yielded to an onslaught of rare common sense. When the organizers were informed that their application to close the streets for Nello's Longest Table should have been submitted two months earlier, the local constable-in-charge volunteered to take personal responsibility. Only four police were needed, he said—two at each end of the closed-off area to keep cars from entering. Even with the prospect of all those people knocking back the alcohol, he didn't seem to worry about keeping order. He was right.
Of course, for such a loose structure to work, you must already have in place a community that doesn't require nannying, let alone strong-armed policing. During the whole weekend, whenever a job needed doing, people seemed to materialize out of the ether and pitch in until it was finished. At the end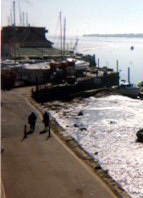 of the final banquet, an impromptu hoard of volunteers scurried about clearing rubbish and gathering up furniture. Even after the collective consumption of Bacchus knows how many barrels of booze, as Mary and I went back and forth carrying tables the length of the Underway to the waiting vans we didn't see or hear a single instance of rude or inconsiderate behavior. It was like one huge family, but without the usual squabbles.
A couple of hours later, it was as though Merlin had waved his magic wand. It could have been just the end of a quiet Sunday evening in a sleepy little Devon town.
©2008 John Whiting
---
June 2010 Once again, Mary's and my food judging for Great Taste at Wincanton dovetailed neatly with the Topsham Food Festival. And as before, we were struck with how different it is from what has become the norm -- there were no rows of high-rent stalls selling products that are about as local as the high-pressure salesmen that are hired in to handle the promotion, but rather local non-celebrity but highly competant chefs giving demonstrations and generous free tastings.

On Friday night we saw for the second time the wonderful animated film Ratatouille, followed by Julia and Julie, which we hadn't seen before but must see again.

On Saturday, in the Pebblebed showrooms just off the Quay parking lot, there was an all-day tasting of some of the best cheeses that have ever found their way onto my palate. For a pound, we were served up with five of them -- twice the quantity and a tenth of the price that any restaurant would have charged. We were then invited to perform a Judgement of Paris, an impossible task when my favourite among them was whichever cheese I happened to have in my mouth at the time.

Finally, on Sunday, there was once more the Longest Table, stretching along the main shopping street and then curving back along the harbour. Unable to cook, we had brought along an assortment of locally purchased bread, cured fish and cheese, but if we had come empty handed we would not have gone away hungry. We were at the Slow Food table with the joint proprietors of Pipers Farm and were served up with two of the finest roasts we've ever tasted. Already full to bursting, we were then offered Marc's pulled pork buns, stuffed with meat that had been slowly roasting since perhaps the seventh day of God's creation.

I started the two-and-a-half days with a 3-litre box of wine; by Sunday night it was empty. In the meantime it had served as a highly acceptable substitute for the water that usually fills my plastic bottle. Did I enjoy myself:? Do bears eat honey in the woods?
Back to TOP
---