Siblings
Chez Casimir
Chez Michel
Chez Casimir and Chez Michel are the beloved children of Thierry Breton, northwest France's eponymous chef. Pudlo thinks highly of both, giving the latter a plate and the former a coveted Coup de Coeur rating in the 2005 edition. (What its relation to the Polish saint may be is not specified.) Located only a five minute walk from the Gare du Nord, they are an ideal place in which to say bon jour or au revoir à Paris—provided that you are able to accommodate your travel to a time when either of them happens to be open. This seems to be a matter of luck rather than of planning. On more than one occasion they've both been closed when they were reported to be open. For our last visit to Paris, we had arranged to arrive in time for Monday lunch. Chez Michel, the guidebooks informed us, would be closed, while Chez Casimir would be open. In the event both were closed tight as a barrel and so we retraced our steps to our old standby, Terminus Nord.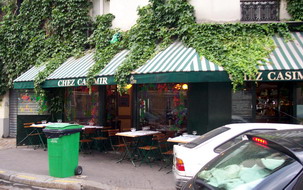 When we left Paris late on a Friday, we tried again. This time we were in luck. Chez Casimir was just opening at 7 p.m. and we had our choice of tables. It was a warm evening, and so our first choice was outside on the pavement; but it was the rush hour and the narrow street proved to be a much-used and largely stationary feeder route. Five minutes of fumes and revving motors sent us inside to a table at the back, far from the madding pong.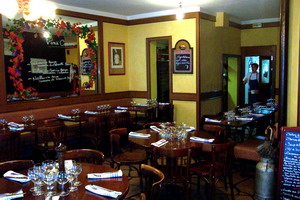 But these are the inevitable inconveniences of a simple bistro lacking a huge staff, long opening hours and massively fuel-intensive air conditioning. If you seek mere convenience and guaranteed comfort, regardless of the weather, you will not be consulting this web site.
In the event, when the food started arriving, we were delighted. Mary's Terrine de campagne was as it should be and came with good bread. My imaginative Carpaccio de langoustines marine au citron was a thin set layer of seafood treated like thin slices of meat; they seemed to have been cooked very slightly but had the flavor of fresh raw prawns.
For a main course, Mary opted for the Papillotte de dorade aux petits légumes, purée de carottes.

The parchment pouch released an intense aroma of very fresh fish, with carrots and courgettes, accompanied by a delicious carrot and potato purée, roughly textured and mixed with cream. My brandade was a shallow cylinder of the usual dimensions, the fish blended with potato to produce the mild but pleasant flavor and texture one usually encounters in Paris. Was it authentic? It was exactly what I wanted—that was good enough for me.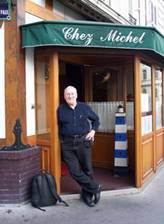 THREE years earlier, I had chosen Chez Michel as the place to meet up over lunch with Maurice Naughton, journaliste extraordinaire. A retired professor of creative writing, he spends as much time as he can afford far away from his home in Flint, Michigan, flâneuring about the streets of Paris. He has an insatiable curiosity, a sharp eye for detail and a personal magnetism that attracts every passing disaster going someplace to happen. Like Bashmachkin in Gogol's The Overcoat, he has "a peculiar knack, as he walk[s] in the street, of arriving beneath a window when all sorts of rubbish [is] being flung out of it".
All these gifts come together in an open-ended and suspenseful diary in which a splendid sanglier at A la Biche au Bois may come alive to toss him on the horns of a narrative dilemma. Installments appear regularly in the foodie website Mouthfuls, in his own dedicated blogpage, Notes from a Parisite. The last time I checked in, his passport and wallet had just been stolen. He relies upon the kindness of strangers.
On the occasion of our lunch, Chef Breton came up with an excellent texture-contrasting Têtes de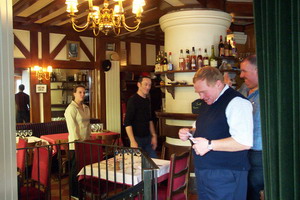 cèpes de plongée rôties, sablé au parmesan, tomates et olives, followed by an intensely rich and eminently carvable Palombe simpliment rôtie, poêlée de girolles et trompettes. Over a modest (in the best sense) Corbière, Maurice entertained me with the saga of his first eminently successful blag, in which he talked his way into the good graces of Peter Sichel of Sichel et Fils—thus gaining entrance to Chateaus Lafite, Margaux, Mouton, Cheval Blanc and several others too slight to enumerate. He tells this amazing tale, just as I remember it, on page 5 of his Mouthfuls slot. If a new generic category, blagblog, is invented, Maurice must be acknowledged as its only true begetter.
Chez Casimir 6 rue de Belzance, 10 th, Tel: 01 48 78 28 80, Mº Gare du Nord
Chez Michel 10 rue de Belzance, 10 th, Tel: 01.44.53.06.20, Mº Gare du Nord
---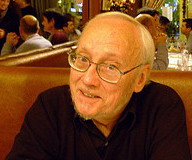 June 2007: Maurice was privileged to leave this world from Paris, that segment of it that he most valued and to which he had given so much loving attention. He had once enjoyed an observation from my old friend, Frank: "There are people dying that have never died before!" I hope that for Maurice the world ended, not with a bang but a chuckle. Here are the early installments of his Paris Journal .
Back to the beginning of this review
---