Le Trumilou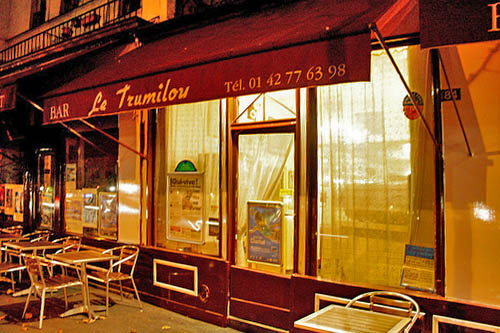 The basic cuisine of historic bistros can arouse very different responses in different people. Chartier's does not summon me back; Le Trumilou's does. The latter is an ancient and simple bar/restaurant on the river behind the Hotel de Ville. I was first told of it by Simon Bainbridge, to whom it had been recommended in turn by Walter Trampler; musicians, who are often stuck in foreign cities for days at a time, can be diligent seekers-out of bargain gastronomic intelligence.

On one of Electric Phoenix's concert appearances in Paris I guided them there for our first night's dinner. It was easy walking distance from our hotel and well away from the expensive food factories that line the boulevards. Two large dining rooms with old-fashioned white linen tablecloths flank the bar, where academics and laborers sip their coffee or play the pin­ball machine. The waiters have been there as long as the furniture, and so have the menus, which offer plats du jour on a weekly rota, including stuffed cabbage, blanquette de veau, potée, and catfish with a garlicky aïoli which could make you persona non grata for the rest of your Paris sojourn.
On this occasion I went for their tripe à la mode de caen, a huge bowl of it, properly made. Such dishes are among the reasons I keep returning to France. It's now almost impossible to cook good tripe in England because it has been declared illegal to sell it unbleached except for animal consumption. There used to be a place in London where you didn't have to bark for it – the huge Japanese food center in Colindale, North London, where inscrutable Orientals were allowed to purchase their curious food­stuffs. I'm told that it has closed, so it's back to Trumilou or Chez Denise whenever I have an urge for tripe so overpowering that even the London tabloids can't satisfy it.
Set meals are 13,50€ and 16,50€
Le Trumilou, 84, quai de l'Hotel-de-Ville, 4 th, Tel 01 42 77 63 98
Back to the beginning of this review
Back to INDEX
---